SUPER HOUSE
by Donald R. Wulfinghoff
The world's most advanced guide to home design,
for everyone who wants an ideal energy efficient home.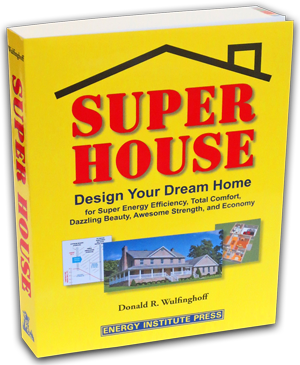 Do you want an ideal home?
Then design it yourself!
Everyone dreams of having a perfect home. Now, Super House makes it possible. Go beyond merely selecting a conventional home to designing an ideal home. You will create an environment for your family that is perfectly tailored to their needs, totally comfortable, exceptionally strong and safe, and beautiful. Your home will be super-energy efficient, eliminating most heating and cooling costs. It will be economical to build. It makes no compromises with appearance or practicality, so it will continue to be a superior investment for generations.
And, Super House shows you how to make additions, renovations, and repairs to an existing home, and how to select your appliances. It pays for itself the first time you use it!
Super House covers all kinds of residential housing. You can achieve the benefits of a super-home with almost any architectural style. A design sequence of Eight Steps provides you with just the right information at just the right times.
Super House is the most advanced and complete book on home design, written for everyone who aspires to an ideal home. Your home is your biggest investment. Whether you are actively considering a new home or just dreaming of one, start designing it now, so you will be ready to build!
This Web site introduces you to the features of Super House. Of course, the quickest way to become familiar the book is to get your own copy!
Click How to Order to order directly from the publisher for immediate delivery. Your satisfaction is guaranteed.
Click Look Inside the Book to view many of the book's actual pages.
Click Table of Contents to see how Super House organizes your ideal home design, renovations, repairs, and appliance selection.
Click Index to search every topic in the book.
Click Questions & Answers for answers to the questions that people most often ask about Super House.
Click Rave Reviews! to see why users and reviewers of all backgrounds are recognizing Super House as a revolutionary breakthrough in home design.
Click About the Author to meet your design guide.
Click Contact Us if you have a question or comment about Super House. We'll be happy to hear from you.
And there's more! Visit the RESOURCE CENTER for powerful tools to create your ideal home.
Click Design Assistance to contact certified architects and design counselors who have demonstrated a commitment to Super House design principles.